It took me a while to start reading Back Issue #22 because I wasn't very interested in the cover feature.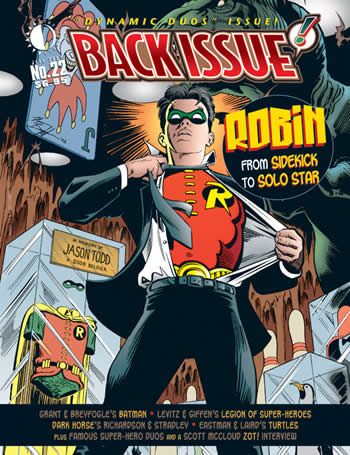 Oh, it's a good one, with a lengthy article on how Robin became a character in his own right in the early 1970s, complete with cover gallery showing his transformation into Nightwing. It's just that I didn't particularly care about that era for that hero. There's also an interview with Alan Grant and Norm Breyfogle and a writeup of how Captain America worked with the Falcon.
But after that… it's like they were writing for me. An interview with Paul Levitz and Keith Giffen covers their classic run on the Legion of Super-Heroes. I skipped the piece on Teenage Mutant Ninja Turtles, but the history of the founding of Dark Horse had some interesting lessons for today. Then came a slightly older interview with Scott McCloud about Zot!
I love that series dearly, and I'd never seen McCloud talk in depth about his work on it, so I was thrilled. I do wish there had been more of an answer to the question of whether/when we'd see the last set of issues, the best of the bunch, reprinted, but you can't make someone give the answer you'd prefer. I also wish the interview hadn't just stopped, as though the page quota had been filled — the usual "about the interviewer" blurb wasn't even included.
After that comes a look at Blue Beetle and Booster Gold circa the Justice League revamp. Overall, a lot more meat geared to my tastes than I expected just from the cover.