Posted by Johanna on September 27, 2007 at 9:50 pm
Category: Comic News
Ms. Tree, last published in comic form by DC in the early 1990s, is returning in prose.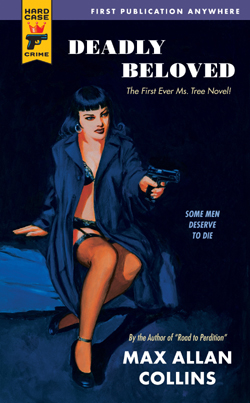 Her writer, Max Allan Collins, is bringing her back in a novel from Hard Case Crime. Deadly Beloved is due at the end of November. Her illustrator and co-creator Terry Beatty provides a new cover painting for the book. The publisher says:
Over the course of 15 years, MS. TREE became the longest running private eye comic ever and her creators were nominated for the Eisner Award. But she's never previously appeared in a (non-graphic) novel. Collins had a blast doing a "Casino Royale"-style reboot, preserving enough of the character's history to please long-time readers and throwing in plenty of new twists to bring her story up to the present.
From the little information I could find online, the series sounds too hardboiled for me to enjoy it, but it's a good example of creator-driven cross-media product development. By owning the rights, Collins and Beatty were able to take their creation elsewhere.