I really like Brandon Hanvey's style, so it's great to see him as the artist on a new webcomic called Comic Critics. There are two strips so far introducing the cast, Josh (comic store clerk and superhero fanboy) and Marissa (indie bookstore girl). It's a bit stereotypical, but I have confidence writer Sean Whitmore can do more with it. The comic is already part of my feed.
Alison Bechdel contributed to Entertainment Weekly's 1000th issue a strip called Compulsory Reading. It's a four-page essay in comic form about the books you're supposed to read and those you actually do. I found a lot I identified with.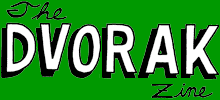 Found via Craig Fischer, the Dvorak Zine. It's a minicomic (all available online) about the history of and reasons to use the more efficient keyboard layout. It's a wonderful example of non-fiction comics and it makes its case compellingly.